At PSC we use CO2 as our method of hemp extraction. We partnered with Thar Process (founded in 1990), a global leader in CO2, supercritical fluid technology and equipment in building a 60 thousand square foot, state of the art C02 extraction facility near Pueblo, Colorado – one of the largest in the state.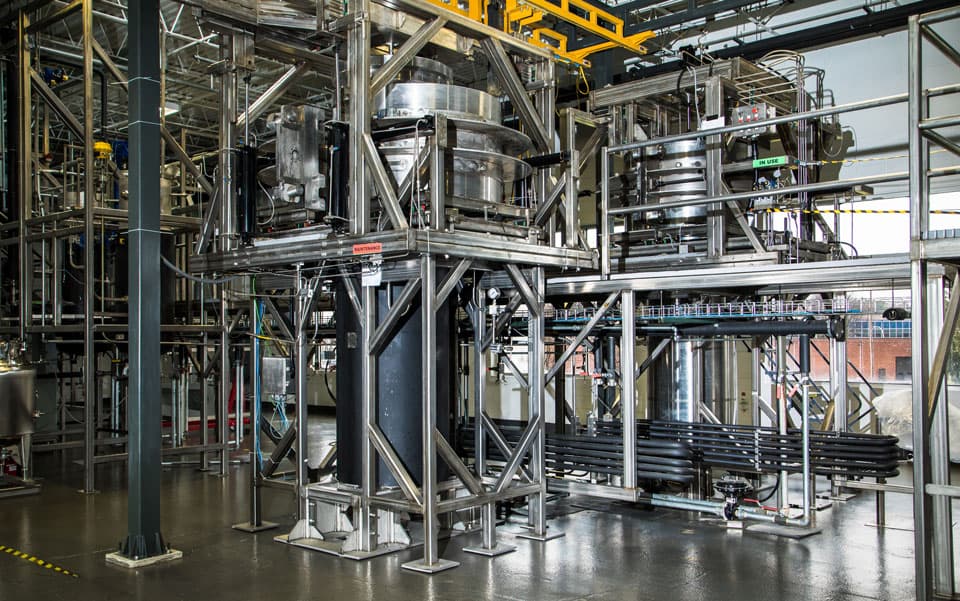 What exactly is CO2 extraction?
CO2 extraction is a process that uses CO2 at a specified pressure and temperature to extract oils within plants without the use of toxic solvents. This method has proven to be one of the most versatile, cleanest, and safest means of producing hemp concentrates. It is also considered the more viable alternative to other methods of separation and extraction. It is also a bit more costly..
Why CO2?
CO2 is beneficial for the hemp concentrate market due to its customizability factor, and also because at certain temperatures and pressures it acts as a solvent, without the dangers of actually being one. When CO2 extraction is used to its fullest potential, the range of CO2-based products can be much broader than other extraction methods. Modification of pressure, temperature, and solvent ratios allows us to create various products, ranging from vaporizer-friendly oils to dabbing concentrates such as waxes, crumbles, and even shatters and saps.
Unlike other solvents, once CO2 becomes a gas, it leaves no residue and does not change the chemical composition of the oil, making the process highly effective. An additional benefit of C02 extraction is that it is a scalable process. By scaling the pumps, heat exchangers, process piping and the fraction collectors appropriately, regardless of the volume of the extraction vessel, the solvent to feed ratio can be kept and achieve over 90 percent extraction efficiency in as little as two hours.
CO2 is already a standard extraction method for the food and herbal supplement industries: from the decaffeination of coffee and tea to the extraction of essential oils for perfumes, this process has become commonplace in many fields.
Thar Process
The Thar-PSC joint processing plant will adhere to the highest industry standards and certifications: NSF certified, cGMP, Organic, Kosher and Hallal. It will build on Thar's reputation of providing solutions for the life sciences and cannabis industries involving chemistry, design, and process development and optimization from concept through commercialization. With its proprietary technology, continuous R&D and toll processing services complementing its expertise in the bench to production-scale equipment, Thar has continuously offered its customers a single-point-of-access for process-scale, extraction and purification supercritical fluid technology solutions. We are proud and excited to have Thar as our partners!